I'm sure quite a few of you have seen this video.
So C♯ is the frequency of the Earth, but do you know why?
Frequency is defined as the number of occurrences over a period of time.
Let's use the equation to figure out Earth's frequency.
When we plug in the values, we find the rate at which the Earth revolves around the sun.
This is the frequency of the Earth, it's so slow that we cannot perceive its vibration audibly. To do that we must multiply this value by 2 to the 32nd power.
This gives us the 32nd octave of the Earth's frequency. Looks a lot more like something we can actually hear, does it not?
Here's how I found the concert A frequency. Since A is 8 semitones above or 5 semitones below C♯, using this equation will yield the frequency of A in reference to the Earth's C♯.
When we plug in Earth's frequency, we get an A that is an octave below concert A. Therefore must multiply by 2 to get our concert pitch.
Now, in 12 tone equal temperament, you can tune concert A to 432.0976...Hz, then you will get a C♯ that is exactly the earth's frequency. You can see that this A is slightly higher than 432Hz in frequency, that is exactly what Bashar is talking about when he says the frequency of the earth is slightly higher than our C♯.
You can also do the same with other planets.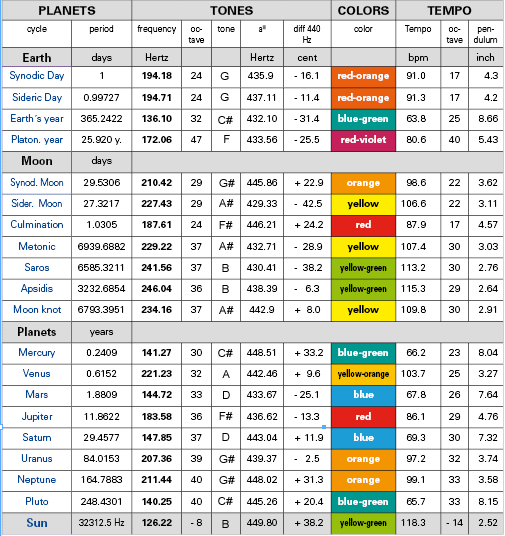 We should perhaps be tuning our instruments so that we play a C♯ that is in tune with the earth. Remember though, music is never perfectly tuned to the purest harmonic intervals. Do some research on temperament to find out the mathematical reasons why music as we know it can never be perfectly in tune.
Here's a video that explains more about the A=440 vs A=432 debate.
Here are some videos that explain in depth the trouble of creating music that is perfectly in tune.